Top of the Line Bricklayers in Fullerton, California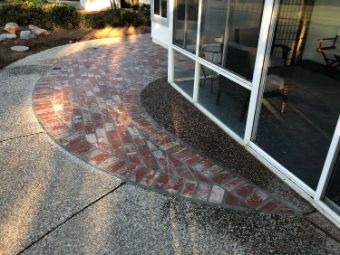 In the construction industry, a bricklayer is someone who is an expert at working with bricks. Primarily, bricks are handy materials when it comes to construction. From indoor fireplaces to massive mansions, they are everywhere. Erecting a brick structure flawlessly is quite a complex job and a bricklayer needs to master a lot of skills to do that. 
If you need excellent bricklayers in Fullerton, don't hesitate to contact us at (714) 844-7499.
Considering the wide use of bricks, bricklaying becomes a very demanding job. And that's why there is a lot of training and experience needed to be a good bricklayer. Even though the job title refers to bricks only, a bricklayer has to work on a lot of things. So without further ado, let's look at what makes a good bricklayer so good. 
What Does a Bricklayer Do?
A bricklayer among many things primarily helps in creating a brick structure with the help of mortar. A bricklayer lays building blocks such as bricks and tiles and uses mortar to level the bed. Mortar helps in keeping the entire structure together. Bricklayer expertly finds the gaps and fills the joints so that a brick structure achieves perfect stability. A bricklayer breaks bricks in smaller chunks by brick hammer to fit in smaller spaces and uses mortar to appropriately fill the areas. 
Apart from these, considering his expertise with mortar, a bricklayer often plasters walls and weld metals with steel structures. If you need to hire a bricklayer for your project, just give us a ring. Dial (714) 844-7499 today.
What Makes A Good Bricklayer?
The job of a bricklayer is no easy task. In order to be good at this job, a bricklayer is expected to possess a very specific set of skills. 
A good bricklayer needs to be great with his visualization skills. A lot of the work in this field depends on intuition. While creativity can only be shown in working with brick pavers, mostly the job needs someone who can follow through the intricate plans and structures. Thus, a good bricklayer needs to be great at analyzing plans and maps and executing them. 
A crucial part of bricklaying is workplace safety. Sometimes construction sites can be a crazy place to be at but adhering to proper safety guidelines and measures is always important. With good training and practical sensibility, a good bricklayer will always calculate the risk factor in a job.
Another aspect of a good bricklayer is being good with measurements. Bricks need to be properly set on an even surface and they must be measured and checked continuously. Horizontal and vertical heights, the weight of the structure and angle should be checked in real-time. That's why a bricklayer needs to be trained properly with industry-standard measurement tools and other machines. 
Bricklaying: Why Choose Fullerton Pro Concrete and Masonry?
A bricklayer's job is quite elaborate and at the same time, it is multidimensional. While in the job, a good bricklayer needs to keep different things in his mind. There can be many things that can go wrong with the process and considering the importance of brick structures, you will not want to risk that. That's why it's best to hire only professionals. We at Fullerton Pro Concrete and Masonry provide you with trained and experienced bricklayers who get the job done safely and efficiently. If you want to know more about us, just call us on (714) 844-7499.