Leading Pool Deck Contractors in Fullerton, California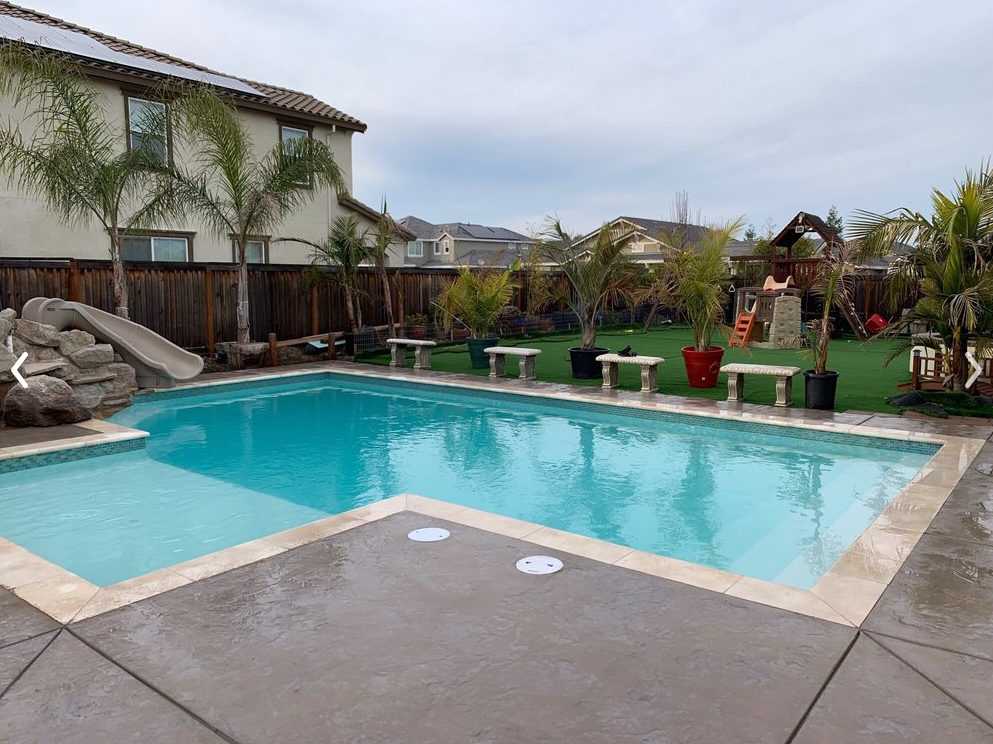 We invest a great amount of time, energy, and resources while constructing our pools but not enough on the decks around them. The pool deck is as important as the pool itself and an excessively warm deck spoils the entire pool party. Under the scorching heat of summer, the pool deck area can become so hot that walking on it becomes an issue. That's why it's always very important to invest in a good pool deck. You should always go for a surface that not only looks good but also keeps the deck cooler than the rest. 
Call us at (714) 844-7499 now!
Pool Deck vs Kool Deck: What's the Difference?
Cool deck and kool deck, despite sharing the same pronunciation, differs in a key aspect – performance.
Cool deck is the generalized term used to describe the products available in the market that specialize in keeping the pool deck comparatively cooler. But the kool deck is one specific cool deck that is a trademarked product of a company based in Tustin, USA. Kool deck is the original cool deck that started the trend and soon rose to popularity. Any cool deck that is not a kool deck is the newer and often inferior substitute of the original. If you need more information to decide which one you should get for yourself, just give us a call! Dial (714) 844-7499 today!
Why Go For Only Kool Deck?
Kool deck doesn't only have the advantage of starting out in the market earlier than the rest, it is still the best choice to keep your pool area cool.
The biggest selling point of kool deck is obviously its effectiveness. It does the basic thing right. That is, it efficiently transfers the heat from the surface down to the soil. By doing so, it maintains the comfort level of the surface. Apart from this, kool deck is great at withstanding thermal contraction and expansion during the temperature changes. 
Not only does kool deck provide great performance, but it also makes your deck area look stylish and sophisticated. Kool deck has a strikingly beautiful aesthetic and is very low on maintenance. 
Kool Deck Installation: Why Choose Fullerton Pro Concrete and Masonry?
Your pool deck is an important part of your whole pool experience and you wouldn't want to ruin it. Pool deck installation is definitely a tricky task so doing it without professional help won't be a good option at all. Kool decks need proper knowledge and care in order to be installed properly as the process is not very simple. That's why it's always best to go for a licensed company that can provide you with the necessary guidance and expertise. 
We at Fullerton Pro Concrete and Masonry believe in the quality of service we deliver for our customers. Our professionals are highly trained and skillful, and they will make sure that your pool deck in Fullerton is installed with ease and perfection.
So if you are living in the Fullerton area and you are looking for a trusted concrete and masonry contractor for pool deck installation, do give us a call. Dial (714) 844-7499 today.