Fullerton Stamped Driveway
Most Excellent Stamped Driveway Contractors in Fullerton, California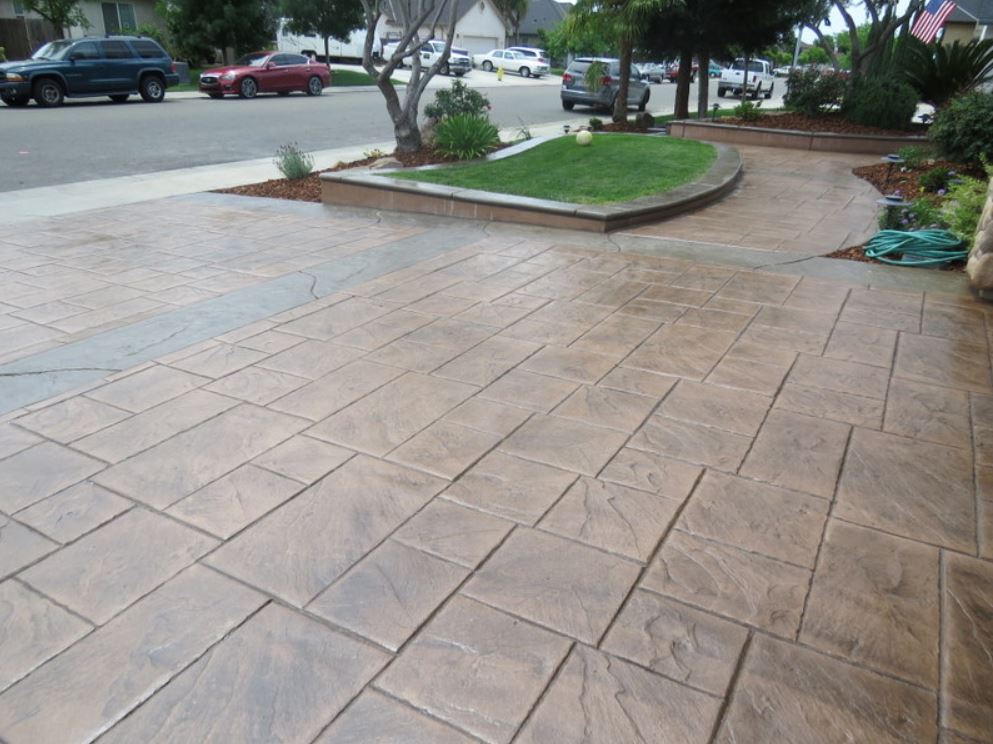 A beautifully designed house deserves an equally well-constructed driveway. Your driveway needs to have a strong surface that can withstand heat and pressure alike. That is why a concrete driveway is pretty common in modern households. However, a concrete driveway can look boring beside your decked up house. Concrete may be sturdy, but surely it lacks the visual appeal. This is where stamped concrete comes to the rescue. You can build a stamped driveway for your household, to ensure the full functionality of your driveway and also to give it an aesthetic touch. Sounds interesting? Read on to know more about how you can get a stamped driveway for yourself.
If you need excellent contractors for your stamped driveway in Fullerton, call us at (714) 844-7499.
What is Stamped Concrete?
Stamped concrete is nothing but your usual concrete, with added textures and designs on it. Stamped concrete serves dual purposes– they look beautiful and also provide stability for your structure. Stamped concretes are widely used in making driveways, patios, pool decks, and sidewalks. 
Why Choose Stamped Driveway? 
Getting a stamped driveway will completely transform your outscape. The shift from grey surface to a designer surface surely looks great. There are a number of reasons why you should consider having a stamped driveway at your house. 
Stamped concrete is used from making a stamped driveway. Stamped concretes can effectively recreate the design, color, and texture of flagstone, cobblestone, brick, wood, etc. 

Since the main material is concrete, getting a stamped driveway will be easy on your pocket. 

There is a wide range of variety available for stamped concretes. You can choose any design or texture of your preference, or you can get a customized design for yourself. 

It is very convenient to keep your stamped driveway clean. 

Stamped driveway is usually a one-time investment. Once you install concrete stamps on your driveway, they will last for a really long time. 

The color and textures remain the same even after years. 

Stamped driveway is resilient and strong enough to endure different kinds of pressures.

Hiring a professional, like our experts at Fullerton Pro Concrete and Masonry, will smoothen the process of installation even more. 

Installing stamped concrete for the entrance of your house, your driveway, patio, and sidewalks is an excellent way of showcasing your artistic sensibility. Choose a color that compliments the color of your house.
Concrete pavers can be another solution for your surface, but concrete stamps are a mile ahead in the competition. Concrete pavers are strong and durable too, but with time, the pavers can shift their places, leading to inconvenience. There is no such risk involved if you go with stamped concrete for your driveway. 
Why Choose Fullerton Pro Concrete and Masonry?
If you are living in and around the Fullerton, CA area, and planning to build or renovate your driveway, Fullerton Pro Concrete and Masonry is the right contractor for your project. Our expert professionals are equipped with all the skills needed to build a fabulous stamped driveway for you. Since our craftsmen are highly experienced, your project will be finished in no time. We hold our customers in high esteem and strive to deliver only the best. So hurry now, call us today and get a quote for your stamped driveway! Dial (714) 844-7499 now.